Publications
Books
Elee's book, Snapshots of Museum Experience takes a Deweyan approach to both learning and experience to explore the many wild and wonderful ways in which child visitors interact with the collections in the Oxford University Museum of Natural History. The book is based on Elee's PhD research, and the outline plan that she agreed before her death. It was completed posthumously on her behalf by Dr. Will Buckingham and published by Routledge in 2018. There is an edition forthcoming in Korean, translated by Dr Lena JE Lee.
Elee's book combines careful ethnography, childhood studies and museum studies to ask what it is like to be a small child at large in a big museum.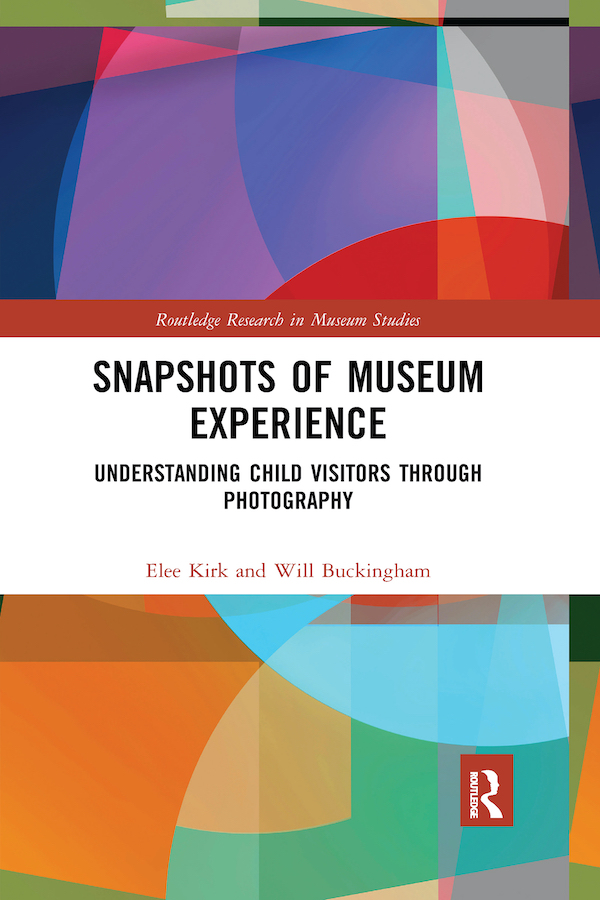 Kirk, E and Buckingham W (2018). Snapshots of Museum Experience: Understanding Child Visitors Through Photography. Routledge Research in Museum Studies.
---
Papers
Kirk, E (2015) "Budding Photographers: Young children's digital photography in a museum", in Stylianou-Lambert, T. (ed.), Museums and Visitor Photography: How Visitors Use Photography, MuseumsEtc.
Kirk, E & Parry, R (2014) The Flexible Learning Experiences Project: Final Report, internal consultation, University of Leicester.
Kirk, E (2014) "Crystal Teeth and Skeleton Eggs: Snapshots of young children's experiences in a natural history museum". Doctoral thesis, University of Leicester.
Kirk, E (2013) "Gaining Young Children's perspectives on natural history collections." Journal of Natural Science Collections 1, 38-43.
Kirk, E. & Buckingham, W. (2013) "Invisible Museums and Multiple Utopias", Museological Review 17, 16-26.
Kirk, E. (2012) "Speaking, Hearing and Translating One Hundred Languages in Museums", in Jelavić, Ž. (ed.), Old Questions, New Answers: Quality Criteria for Museum Education, ICOM Croatia, Zagreb, 73-80.
Kirk, E. (2012) "A school trip for Reggio Emilia: Enhancing child-led creativity in museums", in Jacobs, R. (ed.), Creative Engagements with Children: International Perspectives and Contexts (ebook), Inter-disciplinary.net, 133-41.
Dodd, J., Jones, C., Watson, S., Golding, V. & Kirk, E. (2011) "An Evaluation of the Their Past Your Future 2 Programme 2008-10", MLA Please get in touch if you would like a copy of any of the publications that are not available online.
---