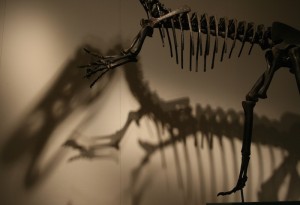 Gosh, it's been a long time since I've blogged. Last year was a busy one, to say the least: I spent the first half of the year finishing off my thesis, and then almost immediately began working full time. There's also been a big and slightly disconcerting change in my life — for the first time in 14 years, I am neither studying, nor working in, museums. I've also had very little time to visit museums, so at the moment I'm feeling a bit like there's a gaping, museum-shaped hole in my life. It's made me wonder why museums are so important to me.
Several years ago, my parents moved house. In the process, they discovered one of my old primary school exercise books, dating from when I was around 10 years old. In a style that was typical of the '80s, one of the pieces of work I had undertaken was entitled 'What I will be doing in the year 2000'. Unfortunately, for a museum person, I am spectacularly un-nostalgic, and seem to lack the urge to hoard, so I no longer have the book. But as far as I remember, my prediction was something along the lines of: 'In the year 2000 I will be working in a museum. I will live in a flat and have a cat and a car.'
What is strange about this is that I actually have very few significant memories of museums from my childhood. I know that as a family we visited museums. I vaguely remember a collection of chimney pots somewhere; like all children from the West Midlands, I remember 'legging' through a tunnel on a canal boat at the Black Country Living Museum; I remember being impressed by the slice of giant redwood at the NHM; and I remember my little sister rushing ahead to push buttons and pull levers (in which museum I can't recall, although it was probably more than one), while I lagged behind to read all the labels. But I don't have a 'Wow!' moment, or even a strong sense of one particular museum that was important to me.
As I grew older, I seem to have stopped thinking about museums. I remember in my early teens deciding that I would probably be a teacher. At some point I considered pharmacy and geology. As an idealistic sixteen-year-old, I decided to become an environmentalist. But somehow, none of that happened, and as an undergraduate, museums re-surfaced. I did a Masters Degree in Science Communication, and got a job in a science museum. It was 2001. My childhood prediction was just one year out (the cat came later, and there's still no sign of the car).
So how is it that, in spite of a lack of powerful museum-based memories, museums seem to have been so important to me? Without a wow factor, how did they get under my skin? I wonder if it is because memorability is not necessarily the same as meaningfulness. I may not have had that 'Wow!' moment that many museums feel they need to induce in their young visitors, but in spite of this, I connected easily to museums, to their spaces, and their objects, and their atmospheres. They became part of me, and they felt like home.
I occasionally saw this happen during my doctoral research with four and five year old children at the Oxford University Museum of Natural History. Of course, many of them were wowed by parts of the museum (as is only right and proper, when you come face-to-face with a T. rex), and some, it must be said, were bored by it. But a few children found parts of themselves there: scorpions, minerals, dinosaurs, sharks. Here were the things the children loved, and so the museum made sense to them, and they connected easily, often quietly, and maybe even deeply, to it.
I don't want to suggest that museums shouldn't aim to wow their visitors, and that they shouldn't aim to present visitors with novel ideas. But I do think it's worth reflecting on the actual experience of how museums become meaningful to people. What or who is it that makes people of all ages feel that a museum is the right sort of place for them? What does it look and feel like for someone to connect to a museum? And what will grow out of these connections?
As for me, well, of course I regret losing that exercise book: I now feel I should have had it framed. But what I really don't want to lose is museums themselves. Maybe it's about time I got visiting again.
---
See also